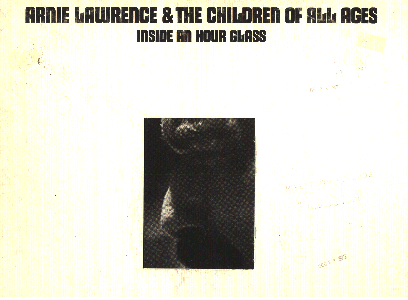 I promise we'll get to some pop music soon, guys. But this record's just too unique to pass by.
Jazz saxophonist Arnie Lawrence's resumé includes his years as a soloist in the Tonight Show Band and stints with Chico Hamilton, Dizzy Gillespie, Stan Getz, and Louie Bellson. A more complete bio can be found
here
. The sounds on
Inside an Hour Glass
will not make you feel like you're returning from a commercial break to find Bill Bixby and Mary Lou Renton sitting on a couch. This is improvisation that could only come from NYC in the wake of
In a Silent Way
, all weird atmospheres occasionally giving way to flecks of funk and souljazz. The Children of All Ages on this session were Dick Hyman, Richard Davis, and Ed Shaughnessy. But some participants were presumably playing hooky from daycare.
My knowledge of jazz is pathetic, so you will want to look elsewhere for an aficionado's perspective. My interest in this record comes from the two
actual
children, Ricky Lawrence and Dickie D. Davis, ages eight and four respectively at the time. The credits include the words 'total improvisation.' For children, improvisation that can be easy and innovative to adult ears, but it also often means repetitive and potentially annoying. Especially once Ricky picks up the recorder. Honestly, Dick Hyman's organ playing doesn't fare much better in a couple of places. But the point of this essentially unedited session -- aside from that one big edit when you have to flip the record-- is to get as free as children. If you're along for the ride a little annoyance can pass after a moment.
This is forward thinking stuff for sure. Lawrence's sax is electronically processed. The rhythm sometimes slips out from under the group. The kids' contributions range from conversation to drum solos. For some
Inside an Hour Glass
will sound like lazy masturbation, the dead-end that many feared was coming for jazz after Miles went electric. To these ears it's a battle between free will and chance. If nothing else, it's an interesting idea worth documenting, and those seem to be at a premium.
The files are recorded from a vinyl source charitably described as 'fair'. And the pressing itself ain't too sterling, either.
Have I sold you yet?
See Carson Arnold's wonderful
two
part
piece about
Inside An Hour Glass
on his website
H(ear)
.
You can stream both tracks below, but unless you've got a supersmooth connection I'd advise downloading them.
Side one: "Inside an Hour Glass" (33:20)
Side two: "Ricky, I Wanna Talk to You" (21:20)